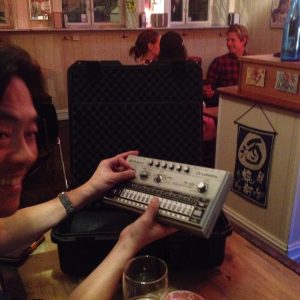 On Nov 2, 2016, at 3:52 PM, Christa Barlinn Korvald wrote:
Hello So,
You have made a cassette on the record label TIEP, do you want to give an interview about the songs? Then we can post it on the TIEP Blog!
1) What kind of animals or beast do you see in your music?
I see different kind of abstract creatures. Espen captured it pretty well on the artwork of cassette though ! 
2) What do they do?
They are mingling and dancing. 
3) Do you often see animals when you are making design?
Only when I make music with modular synth. 
4) You have not made music for 15 years, why is that you think?
I lost interest in making software based music during the 00's until I discover Eurorack modular synth. Guess I was missing more tactile & organic experience in creating music. 
5) Did you see creatures in your music 15 years ago?
I saw computer screens 🙂 
6) How did you discover the modular synthesis?
I understood modular synthesis when I discovered Hosono Haruomi's experimental "electro-exotica" album Cochin Moon which was also a collaboration with Tadanori Yokoo who is a well known artist/graphic designer.
7) Will you make more music in this way?
Modular synthesis will be the canvas of my musical expression for a long time to come.
8) Do you like TIEP?
We are so in tuned with understanding and appreciation on music and arts in general. 
9) If TIEP was an animal, what would it be?
Not just an animal but Tiger Iguana Elephant Pelican.
10) How will you spend the rest of the day?
I tame the creatures.
11) I hope you can answer! Thank you!
Thanks you, hope you enjoyed the answers! 
Cheers, So